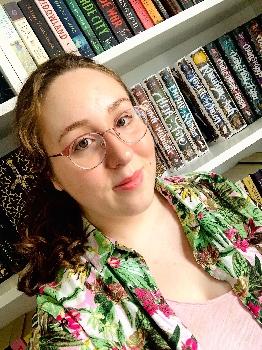 Rachel Small is a writer currently living in Perth, Ontario. She is a graduate of Carleton University where she obtained a B.A. in History and English as well as a fascination with storytelling. Her work has appeared or is forthcoming in deathcap, Thorn Literary Magazine, Bywords.ca, and Arc Poetry Magazine. She is now haunting a local coffee shop working on a fantasy novel. 'where do we go from here?' is her first collection, published through the Whispering Wick Press.

---
This year's judge was Jacqueline Valencia.
"Moments of sensuality unfurl in a pastiche of hope amid trauma. I find myself standing in a beautiful field of blooms despite the thorns. The poem reminds me the strongest way to capture a moment in time is to recall the colours among the black and grey."
The annual John Newlove Poetry award, launched in the fall of 2004, commemorates the honest, poignant and well-written poetry of John Newlove, an Ottawa resident for almost twenty years and poet who died in 2003.
---
The 2 poems receiving honourable mention in 2022 are
Each year the winner will receive a certificate, A Long Continual Argument: The Selected Poems of John Newlove, Edited by Robert McTavish (Chaudiere Books, 2007) and the opportunity to publish a chapbook through Bywords.
---
Poems published on Bywords.ca from September 2022 to August 2023 will be eligible for consideration for next year's Newlove award. The judge for the 2023 award will be Ariel Gordon.