Editor's Notes

Happy Fall Frenzy!
October's issue is about stars, a child's imaginative drawing, rain, love making, music, a girl on horseback and a tire swing.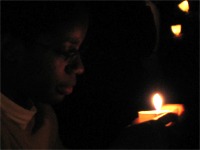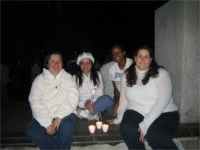 On September 24, Bywords team members, poets and family, took to the streets of downtown Ottawa, raising money as part of AIDSWALK. We raised a total of $825. Thank you to Kemisha, Andrea, Nathalie, and Charles for raising the money and for making the evening a fun and fulfilling experience. Thanks to those of you who were kind enough to donate money. Our funds will be going to Bruce House: a hospice for those who have AIDS/HIV.

Speaking of charities, in January we will have our third annual Bywords Warms The Nights Of The Homeless reading. Stay tuned for more information in upcoming issues of Bywords.ca.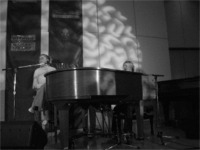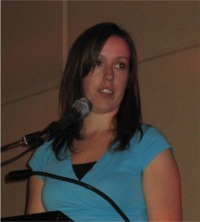 Our John Newlove Poetry Award Reading took place on October 5 at the Ottawa International Writers Festival. It was a poignant evening of readings and music. Tarryn Elliot read on behalf of 2004 Newlove award winner Norma Elliot, who is undergoing chemotherapy for breast cancer. We launched Norma's chapbook, Dust Free, the first in a planned series of chapbooks published by Bywords and written by Newlove Poetry Award recipients. Please go to the Store to pick up your copy of Dust Free. Betty and Kemisha of the Bywords team read some of John Newlove's poems, and finally we made the announcement and heard the 2005 honorouable mentions and award winner read. Please go to the Newlove Award page for more information. At the start and end of the reading, Lee Hayes, with vocal backup by her daughter, Charlotte, played Glenn Gould's piano and sang, mesmerizing us all. The whole evening had a spiritual quality to it, which was very fitting since the goal of the annual Newlove award reading is to remember the fine work of John Newlove. Thank you very much to the Wilsons for their professional and friendly support and organization. The whole writers festival was amazing and inspiring as usual. John MacDonald writes about it in his blog. Take a look!
By the time this issue is put up, we'll have done the Small Press Book Fair on Saturday, October 15 and our autumn reading at will just have happened on the 16th. It's a busy month, not just for Bywords activities, but also for Ottawa's literary community at large.
I hope you are enjoying the invigorating autumn, eating pumpkin pie, frolicking in the leaves and attending all the vibrant literary events the city has to offer. It's a great time to live in Ottawa. Keep checking the Bywords calendar of literary events for details. And sign up to rob mclennan's e-mail list to keep abreast of the latest events also. His site and blog are both links.
Please drop by and say hello at readings. Nothing I like better than to meet Bywords readers, poets and everyone else involved in the literary community.
Look for the fall issue of the Bywords Quarterly Journal in bookstores and at readings. Buy a few copies for your friends and families.
Thanks to the Bywords Selection Committee for picking out stellar poems this month as usual:
Jesse Ferguson, Victoria Martin, Kemisha Newman, Sarah Ruffolo, Betty Warrington-Kearsley, and Genevieve Wesley.
Drop me a word, a comment, a crit, kudos or cash for Bywords: editor@bywords.ca.
Amanda