Editor's Notes

Dear readers,
Alex Munter listed Bywords in his list of top blogs recently in the Ottawa Citizen. Not that we are a blog, but we link to other local literary blogs. Thanks to Alex, we've had a record number of visitors to the site, queries and submissions. It's wonderful that Bywords is becoming well known throughout the world. We've had submissions from former Ottawans in the UK and South America this time around and even queries from British visitors coming to Ottawa who want to know about literary events going on here during their visit. Bywords has really taken off and in ways no one could have foreseen. There really are more things in heaven and earth than are dreamt of in our philosophy to paraphrase a well-known Bard.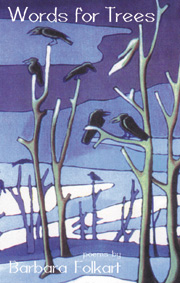 This month's issue includes a review of Barbara Folkart's collection of poems, Words For Trees. The review was written by Bywords' editor Jesse Ferguson. We'd like to add more reviews, especially of small press local publications. Reviews under 500 words can be sent to me at editor@bywords.ca. We can't offer payment at this time, just a publishing credit and wide exposure to a network of poetry lovers throughout the world. One of Bywords' primary goals is to promote local writing and to inform people know about the tremendous literary talent we have in this area and also to let others know about good poetry around. It abounds.

This month's poems speak to that talent. Our three featured poems serendipitously all have to do with motion or lack of it. In Cullen's poem, Estate Wagon, passengers are on summer holiday in a car that lurches back and forth with tension (as summer holidays often do), both on the screen and in words. Robillard's Lovers on Trains and Buses is a slow moving train of lost love and Weerasinghe's The Autumn Pearl is a static, frozen goodbye.
Our Bywords Meltdown reading on April 17 at Chapters, truly melted us all down. It was a blazingly hot, blue sky spring day. Our eight featured poets moved us all. It's always a bit difficult for me to concentrate on the words, since I have to keep track of time, the mic, and all the ambient fun of hosting a reading, but I enjoy hearing readers, especially those who are reading for the first time. There's something empowering about reading one's poetry aloud, something magical. To read it is to make it real.
A special congratulations goes out this month to the Tree Reading Series, which is celebrating its 25th anniversary. To all those who have played a part in the longevity of this series: from the organizers to the featured readers and the open mic participants: Salut! May Tree last another 25 years and more.
Thanks to this month's selection committee:
Jesse Ferguson, Stéphanie Lafleur, Nicholas Lea, Kemisha Newman, Sarah Ruffolo, Betty Warrington-Kearsley, Genevieve Wesley, and Christine Zadorozny.
Comments, questions or kudos can be sent to me at editor@bywords.ca.
Amanda Earl