Among the leaves of poetry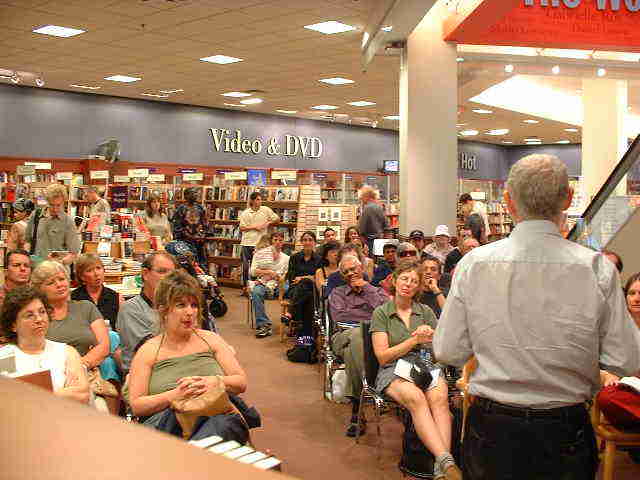 Photograph courtesy of Katherine Cole
The clouds gathered to witness the 2nd launch of the Bywords Quarterly Journal at the downtown Chapters on Sunday, July 27, 2003. But it was not to the crashing thunder that the poets spilled their words of art but to the rhythmic beat of Beautiful Nubia.
With their eloquence charged with passion, Beautiful Nubia's band members, Segun Akinlolu, Akin Osuntoye, and Ousmane Alli, interwove the rhythm of life and drum. Like a splash of raindrop, the African percussion instruments and Segun's guitar lent light tension to the powerful beat.
After Segun's introductory performance, Amanda Earl, Managing Editor welcomed everyone to the launch. (Amanda's chapbook, Blood Orange, can be found at www.fridaycircle.uottawa.ca/ii-1-earl.htm.)
Next, Peter Norman cooled us down with touchingly melancholic poems of winter's nights and ghosts. Sheila Chapman then engaged us with her poems, those embers of cottage sunsets. Writer and Photographer, Max Middle, read his textural poem, "Hop", published in this Bywords Quarterly Journal. He also read an excerpt from his poem, "A Creation Song".
In his poetry, Segun sang about the need to love our children and a little boy was present to receive this necklace of words, strung to nurture him. And the women were present to receive recognition for being women, for their care and beauty.
Seymour Mayne, one of Canada's foremost poets, spoke about the history of Bywords to its present day of existence—thanks to the leadership of Amanda and Charles Earl and their team. According to Seymour Mayne, Bywords is the longest running publication in Canadian literary history. Seymour read the Archibald Lampman poem, "Heat." a fitting tribute to the Bywords Summer Heat theme. No poetry event would be complete without Seymour Mayne's presence and our local poets are ever grateful for his mentorship and presence.
Cyril Dabydeen, a winner of Canada's Governor General's Award for poetry, read his poem, Stoning the Wind. After the audience sampled a few of Cyril's rich and vibrant poems from his extensively published work, Linda Patchett-Marble stood up to read her poems, "Baby Frogs" and "Guess What". The latter poem was a particularly moving reflection of her deceased mother. Linda also mentioned that Bywords is her first publication as a poet.
Some poets shared their personal reasons for writing certain verses, thus shedding rays of light to the roots of these poems.
Segun and his band closed the launch with their ever rhythmic and eloquent phrases. Their fingers dusting the drum-skin, carving and setting in place the shapes of Bywords' 2nd launch for the year.
The clouds then dispersed and diamonds sparkled on the canal.